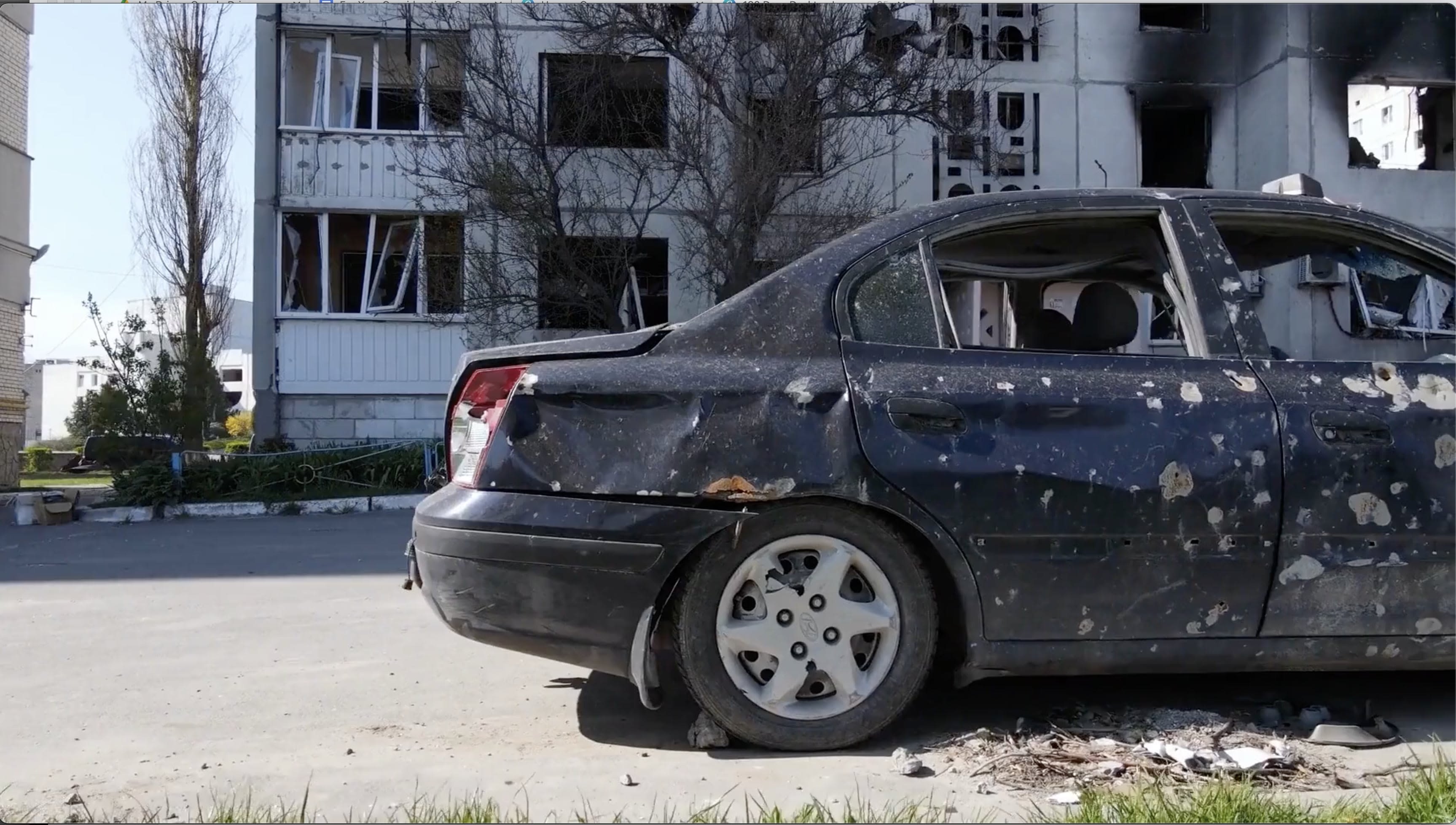 August 24 is Ukraine's national day, a holiday celebrating its declaration of independence from the U.S.S.R. in 1991.
This year, that historic date also marks six months since the start of Russia's unprovoked and illegal invasion of the sovereign nation of Ukraine.
Today, we acknowledge that solemn milestone by reflecting upon the events of those 182 days and vowing our continued support to the resilient people of Ukraine.
You, too, can show your support for Ukraine by sharing this photo essay and reminding the world that Putin's brutal and unjust war continues.
WARNING:
This story contains photos of a graphic nature that some viewers may find upsetting.
Scroll Down
╲╱
A wounded woman stands in front of an apartment complex that has been damaged by Russian airstrikes near Kharkiv, Ukraine, February 24.
(© Wolfgang Schwan/Anadolu Agency/Getty Images)
Ukrainians fleeing the conflict are stuck at the Medyka border crossing as they wait to cross into Poland from Shehyni, Ukraine, February 25.
(© Wojciech Grzedzinsk/The Washington Post/Getty Images)
Ukrainian soldiers tend to a group of civilians who were killed by a Russian mortar round while they evacuated from Irpin, Ukraine, March 6.
(© Lynsey Addario/Getty Images)
People seek refuge from Russian attacks in a metro station being used as a bomb shelter in Kharkiv, Ukraine, March 26.
(© Felipe Dana/AP Images)
A woman walks amid destroyed Russian tanks in Bucha, on the outskirts of Kyiv, Ukraine, April 3.
(© Rodrigo Abd/AP Images)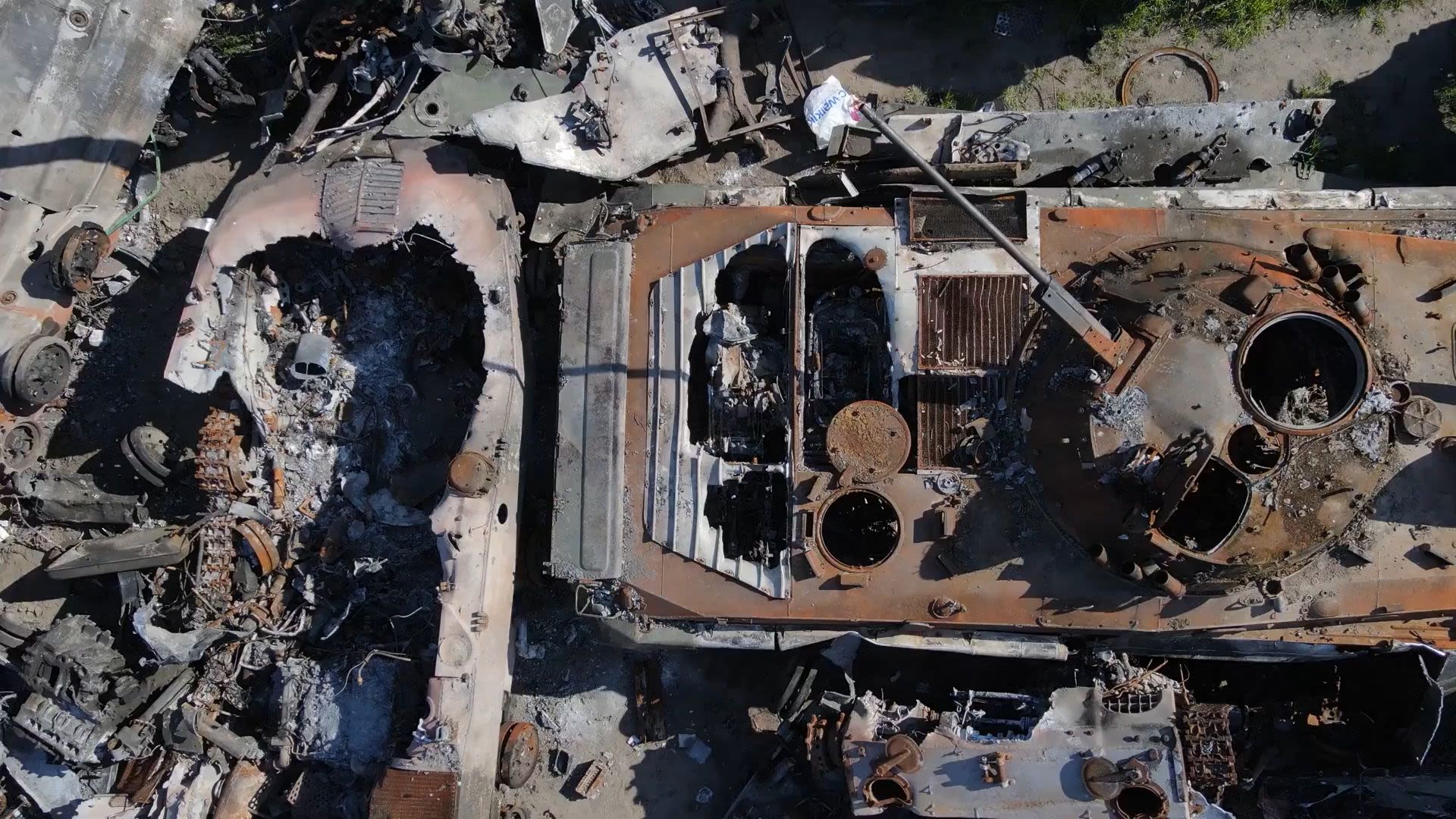 A man carries a coffin next to plastic bags containing the corpses of civilians on the outskirts of Kyiv, Ukraine, April 6.
(© Rodrigo Abd/AP Images)
The chaotic scene after dozens of people were killed and more than 100 were injured in a Russian attack on a railway station in Kramatorsk, Ukraine, April 8, where scores of people were waiting to be evacuated to safer areas.
(© Andrea Carrubba/Anadolu Agency/Getty Images)
Ukrainian service members load the bodies of abandoned Russian soldiers into a railway refrigerator carriage in Kyiv, Ukraine, May 13.
(© Efrem Lukatsky/AP Images)
An injured woman waits for humanitarian aid inside a distribution center in Severodonetsk, Ukraine, May 23.
(© Rick Mave/SOPA Images/LightRocket/Getty Images)
A couple who were wounded when a Russian missile struck a shopping mall hold hands in a hospital in Kremenchuk, Ukraine, June 27.
(© Anna Voitenko/Reuters)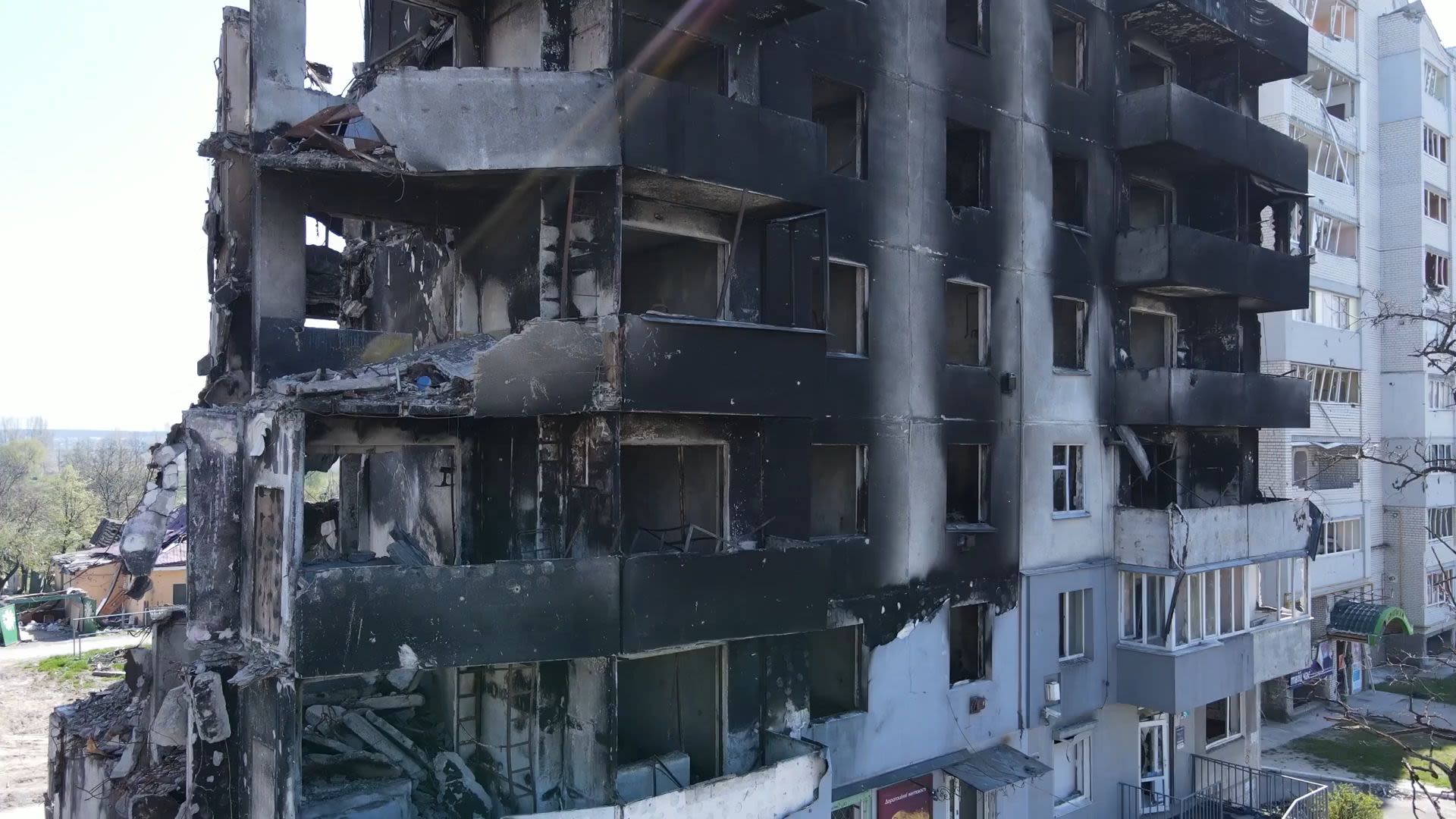 A 4-year-old Ukrainian girl named Liza was pushing a stroller when she and others were killed by a Russian missile attack in Vinnytsia, Ukraine, July 14.
(© Efrem Lukatsky/AP Images)
Liza's father says his final goodbyes before his daughter is put to rest in Vinnytsia, Ukraine, July 17. Liza was among 23 people killed, including two boys aged 7 and 8, in the July 14 Russian missile strike on that city.
(© Efrem Lukatsky/AP Images)
An elderly resident pulls a crate of water bottles up to her fifth-floor apartment in Sloviansk, Ukraine, August 6. The city has no running water as Russian artillery and missile strikes have downed power lines and damaged water pipes.
(© David Goldman/AP Images)
An elderly woman looks out the window from her apartment, which was damaged in a May Russian rocket attack in Sloviansk, Ukraine, August 7. She is one of only four people left living in the block and spends most of her day looking out the window.
"I sit and wait for the end of this war," she said.
(© David Goldman/AP Images)
Volunteers clear rubble on the second floor of a house that was destroyed by Russian bombardment in Novoselivka, near Chernihiv, Ukraine, August 13. Residents in many heavily damaged areas in Ukraine have set up their own initiatives to rebuild homes before the winter as international organizations rush aid to Ukraine to help with the reconstruction effort.
(© Evgeniy Maloletka/AP Images)
It has been 182 days since Russia's unprovoked and brutal war against Ukraine began, and Russia's destruction of Ukrainian towns and villages continues.
On August 24, the Ukrainian people mark 31 years of independence. We will continue to support them as they defend their country from Russian assaults, for as long as it takes.
Please show your solidarity with Ukraine by sharing this story.