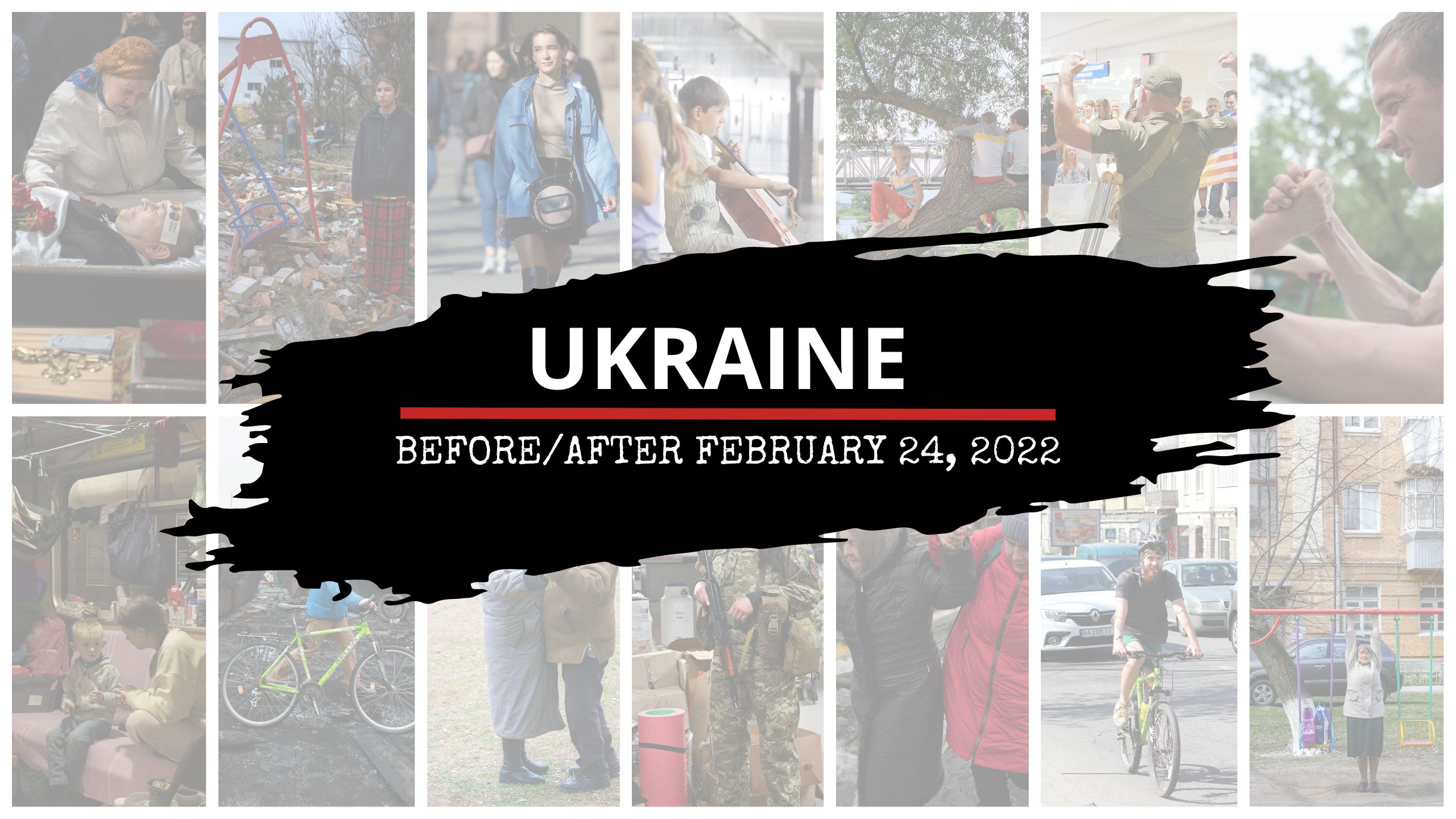 Before February 24, 2022, Ukrainians enjoyed the freedoms of living in a democracy. They went to work and school. They spent holidays at local tourist spots or in Western European countries. They arm wrestled, played in trees and practiced dance steps in the park. They walked their streets without fear.
After February 24, 2022 — the date when Ukrainians awoke to the nightmare of Russia's full-scale, illegal invasion — daily life became difficult. Some citizens risked their lives to leave, too often saying farewell to loved ones for the very last time. Many stayed. Families sheltered from bombs in basements and underground stations. Young men and women took up arms to defend their homeland.
While Russia's illegal war has caused injury or death to civilians and destroyed infrastructure, it has not weakened Ukrainians' resolve to preserve their dignity, sovereignty and democracy.
These photos do not feature the same person twice but evoke similar situations before and after the February 24 invasion.
BEFORE: Ukrainians enjoy free movement. This woman stretches in a Vasylkiv park.
AFTER: Taisiia Kovaliova, 15, who as a child frequented this playground in Mykolaiv, visits it after an attack. "I went to this swing that [with]stood it all," she says.
BEFORE Russia's invasion, young Ukrainians exercise in an outdoor area of Kyiv to minimize the risk of catching COVID-19.
AFTER: Ukrainian veterans arrive in Minnesota for care from a facility run by a Ukrainian American. Dmytro, who received a prosthetic, plans to return to his country so that people "can stop hiding in the basement. Whatever I can do to make that happen, I will do it."
BEFORE: Ukrainian children play on a tree near the river in Irpin.
AFTER: Women help each other cross a damaged Irpin bridge. "In order to repair all these things that unfortunately were destroyed, volunteering must become a lifestyle," says Dima Kyrpa, the co-founder of Repair Together.
BEFORE: Ukrainians enjoy socializing in a Zhytomyr park, where one older couple dances.
AFTER: In Kyiv, a woman mourns the death of her brother, Sergiy Muravyts'kyi. Many elderly people who did not want to leave their homes have been killed. More than 7,100 civilians have died in Ukraine since the February 24 invasion, according to the Office of the United Nations High Commissioner for Human Rights.
BEFORE: A young musician performs for commuters in a Kyiv underpass.
AFTER: In Kharkiv, Ukrainians use commuter stations and subway cars as bomb shelters.
BEFORE: Ukrainians regularly commute around Kyiv by bicycle, encumbered only by vehicular traffic.
AFTER: Ukrainian cyclists — such as this one in Bucha, near Kyiv — now navigate around debris left by Russia's war.
BEFORE: A young woman walks in Kyiv on a presidential election day. After winning, President Volodymyr Zelenskyy told Ukranians, "I will never let you down."
AFTER: Iryna Sergeyeva, in this photo, is one of nearly 60,000 women who serve in Ukraine's military, many fighting on the front lines. One female fighter, formerly a music therapist, says she joined "not to sit in the rear, not just to wear a uniform, but with a specific goal. … I want to win the war, return home, hug my friends, family, tell everyone it's over and return to my civilian profession."
The world recognizes Ukraine as an independent nation. Nations in Africa, Asia, Europe and the Americas have joined the United States in pledging their support to Ukraine. To people the world over, the blue and yellow colors of the Ukrainian flag symbolize brave resistance.
On February 25, 2022, the day after Russia's full-scale illegal invasion began, Ukraine's President Volodymyr Zelenskyy went out on the streets of Kyiv and said, "The president is here. We are all here. Our soldiers are here."
It has been one year, and Ukrainians stand tall — undefeated, unbowed, unyielding.